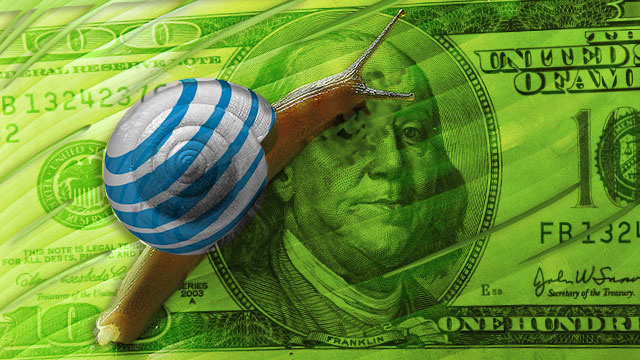 Dave Mortimer went house shopping in 2013, and he made Internet speed a top priority. His standards weren't incredibly high—he just wanted 20Mbps or so to make sure he could avoid some trips to the office.
"I work in IT, so fast speeds are essential for me to work at home," Mortimer told Ars. "I called AT&T on three separate occasions to verify that this home had U-verse capabilities or, at the very least, 20Mbps. I was told every single time 'Yes, that service is available at that residence.'" (When contacted by Ars, AT&T was unable to comment on what company representatives told Mortimer in 2013.)
Mortimer also plugged the address into AT&T's U-verse availability checker. The system reported that the home could get the service he wanted, Mortimer said.
But Mortimer learned the truth after moving into the house in Lowell, Michigan, a city of about 4,000 residents. Instead of AT&T's U-verse fiber-to-the-node service, which could have provided up to 45Mbps, the best AT&T could actually offer him was up to 768Kbps download speeds over DSL lines.
Since it was the only wired Internet option available, Mortimer subscribed. He soon found that the "up to" in AT&T's description was there for a reason; Mortimer said he could only get about 300 to 400Kbps, a fraction of the 25Mbps download speed that meets the US definition of "broadband."
"Half the time, websites won't even load," he said. At those speeds, streaming video is out. Downloading files was difficult not only because of the low bit rate but also because the connection was often unstable, dropping many times a day.
Mortimer's job involves helping employees with problems and maintaining the network.
"I go to an office most of the time but I'm on call at home, and the office is 30 minutes away," he said. Getting work done at home requires logging in to a remote desktop. With AT&T, what should be 5-minute fixes could take 45 minutes, he said. Just restarting a server felt impossible from his home connection, so Mortimer made a lot more trips to the office than he'd like.
In more lucrative areas than Mortimer's town, AT&T has made sure to bring fiber closer to homes. In 100 cities, all outside Michigan, AT&T says it is considering building fiber-to-the-home gigabit service, more than 2,000 times faster than the real-world speeds it delivered to Mortimer.
"Before we moved out here we had Netflix and Hulu and played online games, and now we don't do any of that," Mortimer said. "We had to cancel a lot of subscriptions."
Mortimer complained to AT&T and even to the state Public Service Commission and Federal Communications Commission about what he believes to be deceptive statements made by the Internet provider. Though he never got better Internet service from AT&T, the company eventually updated its website so that it no longer promised fast broadband to his residence. "After my complaint and their site evaluation, they corrected it on their website," he said.
Mortimer has appeared in front of the Lowell City Council to argue that the city should build its own fiber network, and he started a group called the Lowell Fiber Initiative to pursue that goal.
Ars first spoke with Mortimer in January. His situation recently took a turn for the better when, after much trouble, he was able to get usable wireless service at his house (more on that later).Further ReadingOne man's failed quest to buy wired Internet from TWC or VerizonTWC got $10M in state broadband grants but won't extend service just anywhere.
The frustrations he experienced illustrate a risk taken by new homeowners, particularly in areas where Internet coverage is spotty. Even when home buyers call local broadband companies to find out whether service is available, they sometimes get incorrect information.
In Kitsap County, Washington, a man whom we wrote about last month said he was told by both Comcast and CenturyLink that he could get service at his house, only to find out that neither company could deliver. Comcast wanted him to pay $60,000 in exchange for extending their network to his house; instead, he decided to sell his house and move. Read more…